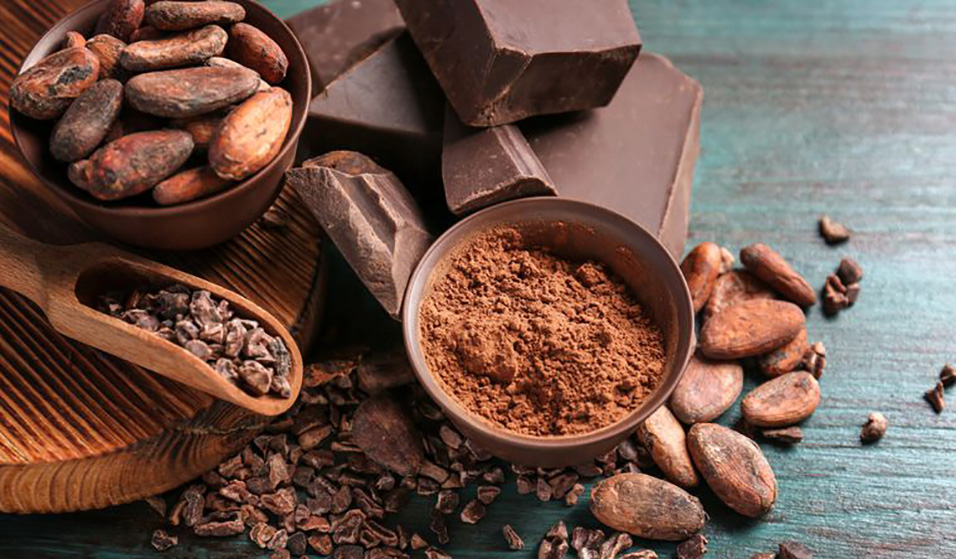 CACAO PASTE RECIPES
CEREMONIAL CACAO
One to two ounces of pure organic ceremonial cacao to experience the full bliss effects of the Theobromine (Food of the Gods) and Anandamide (The Bliss Molecule)

Make sure the Cacao is kept in a cool dry place and isolated before use.

Add hot water to the desired amount usually seven ounces of hot water for a traditional recipe to one to two ounces of cacao paste. My favorite is unsweetened organic coconut milk.

If you wish you may add spices like cayenne, nutmeg, cinnamon, cardamon, vanilla, coconut flakes, agave or honey. Traditionally no sweetener was added in order to experience the Cacao as the Mayans did. Some people like to do a ceremony every day and may add organic unsweetened coconut milk, almond milk or oat milk.

Break up one to two ounces of the cacao paste into smaller pieces in a dedicated cup so that it can soften in hot water. You can also make on the stove top in a pot of water or nut milk. Stirring and whisking on a low heat. The traditional whisk is called a Molinillo. Never burn the cacao.

Add cacao to water/nut milk

Add optional spices

Use a whisk or Molinillo until cacao is melted and there is a froth on the top of the mixture.

For daily use you can add your favorite superfoods or add to your smoothies.

Serve and enjoy



Morning Ritual — my favorite cacao ELIXER
30 g cacao (about 3 tbsp), chopped / ½ tsp cinnamon / pinch of cayenne pepper / 1 medjool date (optional) / pinch sea salt / ½ cup hot water (not boiling) OR ½ cup warmed oat or almond milk.

(Tip: use the mug you plan to serve the drink in to measure the liquid as it's the perfect amount and warms it up ready for your tonic!)

Often I'll add one or two nourishing herbs and adaptogens too, just ½–1 tsp of each, such as shatavari, medicinal mushroom powders, ashwagandha, mucuna pruriens, or maca. Look into each herb and see which might suit your body and lifestyle before incorporating.

Blend for 30 seconds until frothy and serve.
ICED CACAO TONIC — FOR HOT DAYS OR AN AFTERNOON PICK-UP
2 heaping tbsp raw cacao powder / 1 tsp cinnamon / 1 crushed cardamom pod / pinch of cayenne / 1 medjool date or a dash of maple syrup / ½ cup oat or almond milk + ½ cup cold water / 2–3 ice blocks

Pop all ingredients in your blender and whiz on high for 30 seconds. Serve over ice.
MEDITATION + CEREMONY — CEREMONIAL CACAO FOR DEEP CONNECTION AND PRACTICE
30–40g cacao (about 4 tbsp), chopped / ½ tsp cinnamon / pinch of cayenne / pinch of sea salt / 1 cup hot water (not boiling)

Combine in a pot on the stove for a more traditional experience or mix in a blender for a blissfully thick, frothy cup.

If sharing in ceremony, you can gently reheat the blended mix on the stove when you're ready to serve. Always keep on low heat and never let the cacao come to a boil as this changes its molecular structure and the way our bodies are able to absorb its nutrients. Try unsweetened for a deeper, potent dose. Cacao's bitter medicine is good for us! I like to give people the option to try it first without any sweetener, and then they can add a teaspoon of raw honey if they like.
HEART BEAMS — SWEET SELF-LOVE AND TENDERNESS
20 g cacao, chopped (also optional to add 1 tbsp cacao powder for added richness) / 1 tsp cinnamon / 1 medjool date / 1 tsp sprinkle of organic edible dried rose petals / 1 crushed cardamom pod / ½ tsp Shatavari powder / 1 cup hot water (or try with this rose tulsi tea instead of using rose petals for a divine heart-opening flavor)

Blend all ingredients for 30 seconds until frothy.
CACAO ENERGY DRINK
Recipe ingredients
1 oz of ground paste (I use a dedicated coffee grinder)
1 scoop of your favorite organic protein powder
Or substitute
1 tablespoon of organic almond butter
2 Dates
1 cup of frozen banana
1/4 teaspoon of cinnamon
8 0z of organic unsweetened vanilla almond milk
1 cup of ice
Directions
Blend nut milk, ground cacao paste,
Cinnamon, protein powder or almond butter and dates together.
Now add frozen banana and ice until smooth.
Enjoy a delicious Cacao Smoothie
CACAO BUTTER RECIPES
WHITE CACAO BUTTER BAR
225–250 g solid cacao butter (broken into chunks, about 1 cup)

6–7 tbsp raw cacao paste

3–4 tbsp honey or maple syrup

½ tsp sea salt

1 tsp vanilla extract/essence

1 tbsp pumpkin seeds or sunflower seeds

1 tbsp almond slivers or shavings

1 tbsp coconut flakes (optional)

1 tbsp dried blueberries, cranberries or raisins

You will also need a saucepan quarter-filled with water, a digital thermometer, a heatproof bowl that goes over the saucepan, a whisk, a shallow baking tray and a non-stick baking pan.
Chaga Coconut Almond Mint Raw Chocolate Recipe
INGREDIENTS:
4T cacao butter

3T cacao powder

1t coconut oil

1t cacao nibs

1/8t mint oil

2t coconut flakes

1T chopped almonds 

1t chaga powder

1/8 of a vanilla bean (inside paste)

1/4t green stevia powder

2T coconut sugar

1t raw honey

pinch of sea salt
DIRECTIONS:
Using a double boiler melt the cacao butter and coconut oil in two small separate dishes in a pot of simmered water on low flame without a lid.

Place the melted cacao butter and coconut oil in a bowl with the scrapped paste of vanilla bean.

Add the remaining ingredients and stir thoroughly using a whisk and/or rubber spatula.

Pour the mix into a cold chocolate bar mold, spreading out evenly if necessary and freeze for several hours or refrigerate for 4-6 hours.

Store in fridge or freezer until ready to eat or serve.
White Hot Chocolate made with Cacao Butter
Dairy Free White Hot Chocolate made healthier with Cacao Butter.  A warming drink made with wholesome ingredients, a great way to fuel your kids in the morning before a long day at school
INGREDIENTS
1 cup / 250ml milk  (nut, coconut or cows)

1 tablespoon cacao butter

1 tablespoon honey

1 teaspoon vanilla extract

sprinkle cinnamon to serve
INSTRUCTIONS
Add the milk and cacao butter to a saucepan over medium heat and bring to a simmer.  Reduce heat to low and simmer for 2-3 minutes, stirring occasionally.
Once combined, remove from heat and stir in the honey and vanilla.
Serve sprinkled with cinnamon
CACAO SKIN CARE RECIPES
Luxurious Whipped Body Butter (with cacao butter!)
It is amazingly simple to turn hard chunks of raw cocoa butter into fluffy and silky cream that sinks into skin in a matter of minutes. Use different fats, like rich shea butter, switch up the fragrance with essential oils, or even spice your whipped body butter up with cinnamon or nutmeg. 

INGREDIENTS
1/4 

 

cup

 

Shea Butter

 

(optional or use more cocoa butter instead)

1/2 

 

tablespoon

beeswax

 

(optional)

1/2

 

teaspoon

 

vanilla extract
Combine all ingredients in a heavy bottomed sauce pan or water bath over low heat.

As soon as the ingredients start to melt, remove from heat, and transfer to the bowl of a stand up mixer with a whisk attachment. Alternatively, you can use a hand mixer.

Put the bowl in refrigerator for 40-50 minutes. You want the oils just to begin to solidify. Note the color: the mixture will change color from clear to opaque, and become lighter.

Whip with the whisk attachment (or hand mixer), scraping down sides, for about 5 minutes, or until it resembles whipped cream.

Transfer to small Mason jars.

Keep at room temperature for about 2 months. 
RECIPES NOTES
If the oils don't change consistency for a while once you start whisking, the mixture might not be cold enough. Place it in refrigerator for a few more minutes and try again.

I use beeswax in the summer only. It helps the whipped body butter to keep its fluffy consistency longer.

I use refined beeswax because unrefined wax smells a little too strong for me. You can use your preferred beeswax.